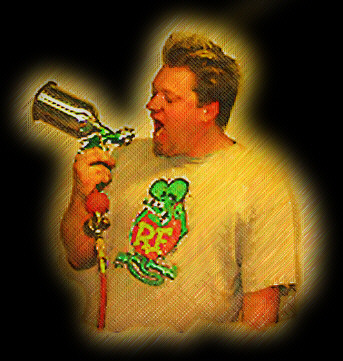 Hi, I'm Stike, owner/operator of Rowyco Kustoms and a near life long guitar nut. I remember as a little kid lusting over Les Paul copies in the Sears catalog because they looked like the guitar Ace Frehley was playing on the cover of Kiss Alive. A few years later when I actually got a guitar of my own MTV was in its infancy (back when they actually played music). I remember seeing loads of really cool guitars - Neal Schonís Les Pauls, Neil Giraldoís BC Richís, James Honeyman Scottís vintage pieces, and Rick Nielsenís awesome custom Hamers just to name a few.

As much as I dug the music the guitar was always as just as much visually appealing so itís probably not much of a surprise that it didnít take me much time to strip the finish off of my cheap Memphis Strat copy and repaint to look like the Lake Placid Blue Strat I had seen on the Foghat Saturday Night concert MTV used to air all the time. As you can imagine a teenager armed with zero "how-to" information wasnít going to get stellar results but I had been bitten with the "hot rod" bug and that poor guitar got stripped and repainted more times than I can recall.

Fast forward several years - the internet was just getting started and was not yet chock full of easy answers. I had a project in mind and I actually wanted it to look right so I called up a local ace luthier / repairman for advice. He was nice enough to give me a basic materials list and finishing schedule - and off I went. The results were good enough that I was given an apprenticeship in his shop. I also started on some other refinishing projects for myself which in turn led to some of my guitar playing buddies having me spray some of their guitars. This eventually led to a position finishing for a small guitar manufacturer for several years.

As much as I admire guitar industry legends like Leo Fender, Ted McCarty, Semie Mosely, Ned Steinberger, Ken Warmoth, Tom Anderson, and Bob Taylor Iím equally if not more so enamored of the original Southern California hot rodders. Guys like Gene Winfield, Ed 'Big Daddy' Roth, Larry Watson, and the Barris Brothers.

I learned a lot doing production work - vintage style sunbursts, accurate "custom colors", working with multiple finishing systems and materials. I still do contract finishing for a few small builders but my love of "Kustom Kulture" really pushed me to open Rowyco Kustoms and apply that aesthetic to guitars. Traditionalists fear not, I'm still more than happy to spray all those great "bursts" or famous customs colors that are industry standards. Rowyco Kustoms is a one man shop that will give you and your guitar the extra attention you deserve and expect.